Why You Deserve a Lakeside Getaway This Spring
Published: 2023-04-12 / Author: Lake Country House

Life can be overwhelming sometimes, many of us are working a full-time job or running a business while tending to our families and homes in our free time.
It is not uncommon to find you have no time left in the day for yourself, but now more than ever it is vital that we carve a slice of our schedule out to nurture our mental and physical well-being.
Why Is Relaxing So Important?
Relaxation and taking a break from our daily routine have a multitude of physical and mental benefits. By investing time into relaxation, we can support our minds and bodies, which in turn improves:
Improve your heart's health.
Increased brain function and memory.
Reduces muscle tension, aches, and tightness.
Improves sleep quality.
Minimise and prevent symptoms of some chronic medical conditions.
Ease symptoms of anxiety and depression.
Boosts your immune system.
Reasons Why You Deserve a Lakeside Getaway This Spring
One of the most effective ways to relax is to check out your daily life by enjoying a getaway. Holidays abroad can be stressful to organise and expensive to fund, therefore a UK springtime getaway can be the perfect solution to taking a break. With Lake County House being a luxury hotel in Wales, we offer the perfect setting to unwind and recuperate in a natural setting, overlooking a serene lake.
You Have Been Working Too Hard
A hot topic of conversation in many workplaces is the growing number of individuals coping with 'burnout'. Burnout is described as a symptom of overworking where an individual can no longer perform their duties due to overwhelming stress. Burnout can have serious consequences on your physical and mental well-being, so taking the time to check out and relax can help to prevent this from happening.
You Didn't Relax Over Christmas
The last time many of us had a break was over the Christmas season, however, Christmas is rarely a time to relax. Whether you were visiting family, preparing for the celebrations, or helping the less fortunate, the chances are there was little time for you to relax and switch off from the madness of the Christmas holidays.
Your Focus Is Always On Others And Never On Yourself
Our time and energy are often directed toward to care of others, especially if we are a parent. While caring and supporting others is a fulfilling act, it is still important that you value yourself and your happiness too!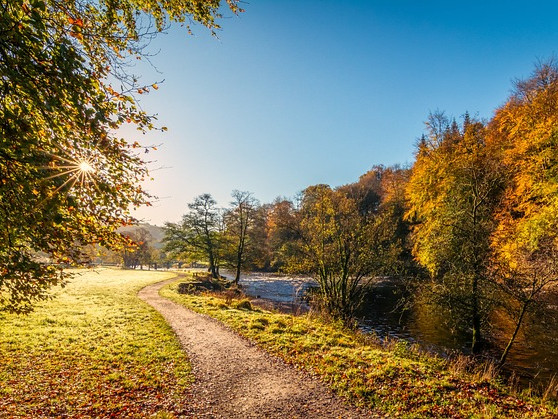 Ways To Relax On Your Spring Getaway
Booking your spring getaway is just the first step on the road to relaxation, you will also need to commit yourself to relax once you arrive. It's time to put down your laptop and turn your phone to silent as you switch off and unwind.
Relax In Nature
Spending time in nature has been scientifically proven to improve your overall well-being. Surrounding yourself with nature can; improve your mood, promote serenity, and reduce anxiety. That's not all either, spending time in nature can actually reduce your blood pressure and stress hormone level as well as enhance the function of your immune system.
Lake country house is situated near the Brecon Beacons and the Shropshire Hills making it the perfect location for a walking holiday in Wales.
Expertly Relax In A Spa
The benefits of spas for our health and well-being have been revered for generations. Historically, the rich would retreat to coastal spa towns to relax, records of massage therapy have been found in ancient civilisations and many cultures have rejuvenated in naturally occurring hot springs.
A spa break is the ultimate way to unwind both physically and mentally. Indulging in luxury spa treatments such as deep tissue massages, facials, or hot stone therapy can not only promote a calm state of mind but relieve physical symptoms of stress too. We all deserve to treat ourselves, and a spa treatment is a wonderful way to do so. If you are looking to check out of your daily reality for a couple of days, Lake County House offers a range of luxury spa breaks in Wales.
Relax And Do Nothing
We are constantly on the move in our day-to-day lives, rushing from work to home, doing school runs, or walking our pets. One of the best ways to relax is to do nothing, simply sit and enjoy your time by the pool with a good book or take a leisurely stroll through the countryside.
Don't plan an itinerary on your springtime getaway and definitely don't set a morning alarm, simply allow yourself to do as you want when you want. Allow yourself to let go of your expectations and enjoy your time away however you see fit.
Book Your Luxury Spring Getaway Today
If we have inspired you to choose a spring getaway to the Welsh countryside for yourself or you and your partner, contact us today and book your stay.