Romantic Gift Ideas & Breaks for Two in Wales for 2023
Published: 2022-11-01 / Author: Lake Country House
Whether it's a birthday, Valentine's Day or any special occasion, there are so many ways to spoil your partner these days. But if we had to pick something straight from the heart here in Mid Wales, where would we start? Gift ideas might start with his or her tastes, not to mention your budget. You could pick something small but personalised, or go for a full blown break or gift experience to mark that special occasion such as an anniversary. Here are some of our favourite, distinctly Welsh Valentine's gifts and ideas:
Classic Welsh Romantic Gifts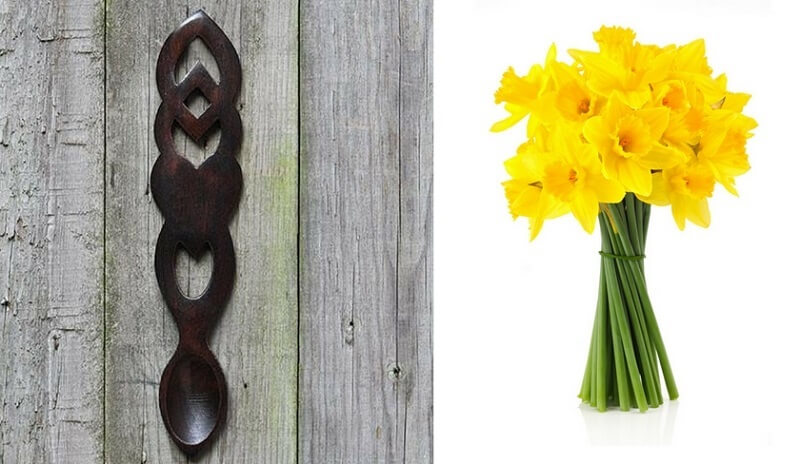 A traditional wooden love spoon, from The Welsh Gift Shop, alongside classic daffodils.
Perhaps the ultimate traditional gift for Valentine's Day, the love spoon is a tradition that dates back many centuries in Wales. Featuring intricate designs and motifs (hearts, locks and crosses are common), these were originally given to a loved one as a token of unity and good fortune. Don't try eating soup with one though; most designs are decorative rather than practical.
Other ideas would include something handmade, such as artisan knitted woolens, or perhaps a classic bouquet of daffodils? There are over two dozen types of daffs, so don't feel you have to go for the most obvious varieties. Some of the miniature types are especially beautiful and add a little extra novelty to our national flower.
Of course, it is worth noting that only relatively recently has most of Wales celebrated on February 14th. Our own national day of love is St Dwynwen's Day (25th January). Whether you wish to celebrate early, surprise them or even perhaps treat your beloved twice, it's worth noting in the diary.
Say it with Verse
How is your Welsh? In a nation known for its songs and verse, it is perhaps only fitting to charm your love with a well-chosen line or two. You could keep it simple with "Rwy'n dy garu di" ("I love you"), or borrow something from the great poets of Wales (here are fifteen of the most romantic lines ever spoken in Welsh, according to Wales Online).
Perfect Activities for Two...

Another great way to make some new memories as a couple is with a new or favourite activity. In mid Wales, the scenery certainly makes a fittingly beautiful backdrop for romantic days out, but what are the best ways to explore? There is always a sense of magic about water, so a kayak trip for two is one option for a pleasant trip on Welsh waters.
If you're less keen on water though, how about a day out on a bicycle made for two? Elan Valley is perhaps your best bet, where there is the option of tandem bike hire to get out and explore pretty lakeside trails (see: http://www.elanvalley.org.uk/explore/cycling/cycle-hire). For further ideas, our recent top 10 list of great Welsh experiences and activities is also well worth a closer look.
Drop the big question!
If this year is the one to mark your feelings by asking the big question, you are going to need a location fit for a queen! So where are the most romantic places to propose in Wales? That's a tricky question. Perhaps one of the peaks of the Brecon Beacons or Snowdonia National Park has to be the ultimate. Natural beauty is always handy for stirring the heart strings, so perhaps a spot such as a dramatic waterfall? Our previous blog on romantic Welsh locations has several suitable ideas to take their breath away.
Valentine's Dinner & Romantic Breaks in Wales
Of course, if your other half is a passionate foodie, then an excellent meal is a must on February 14th. Why not make this year extra special by combining this with a special gourmet break for the two of you?

Here at Lake Country House, we always produce an outstanding menu of seasonal favourites fit for any romantic occasion! Of course, if you would like to add your own special extra treats such as chocolates, flowers or a spa session for two for your stay, all you have to do is say the word to our staff.
These breaks are always popular, so do book as soon as you can. Full details can be found here: https://www.lakecountryhouse.co.uk/something-special