Introducing our new Head Chef: Joe Bartlett
Published: 2019-09-05
At The Lake Country House, good food is a key part of our guests' experience. From breakfast and afternoon teas right through to our gourmet tasting menus, delicious, award-winning dining is part of our everyday.
Therefore, it's important that our team shares our passion for producing gourmet treats that delight our guests morning to night.
We're delighted to introduce you to our new Head Chef, Joe Bartlett, who delivers just this. Chef Positions To help you get to know Joe, we've quizzed him on where he gets his inspiration, food trends, his dream dinner guests and more...

How did you go into cooking/the hospitality industry?
Firstly, I've always loved eating. Secondly, my first job was a waiter when I was 14. I spent most of my time in the kitchen watching the chefs prepare the food for the day, that's when I knew I wanted to become a chef.
Where have you worked previously?
I've always worked in Country House hotels and around the 2 rosette level. I fell into teaching at a private cookery school/chefs academy where I stayed for the best part of 8 years and enjoyed it thoroughly, but the kitchen is where I always wanted to be. Most recently I was at Le Manoir working under Gary Jones, the exec chef to Raymond Blanc. I was there for a couple of years trying to understand the standards needed to cook at the highest level.
What cookery awards do you hold? Or are there any you aspire to hold?
I've achieved two rosettes in two hotels in Devon and Cornwall but always wanted more. 3 rosettes is achievable but Michelin star would be the dream! After my time at Le Manoir I feel I've got the skills and knowledge to have a good go at achieving a Michelin star. It will take time to build and learn buts it's a marathon not a sprint after all.

How do you create your menus?
Imagination! I can think of a dish whilst sleeping or just simply a walk in the woods. Seasonality and great produce is the key.
What's the most important part of the cookery process for you?
Cooking with your senses. Sight, smell, touch, taste and simply just listening.
What's a typical working day look like for you?
I like to get in fairly early to see the deliveries and give the team a kick start. I then get set for the day. There is a lot of teaching and learning going on day to day. I usually nip off for a quick swim or forage in the afternoon and then back for service.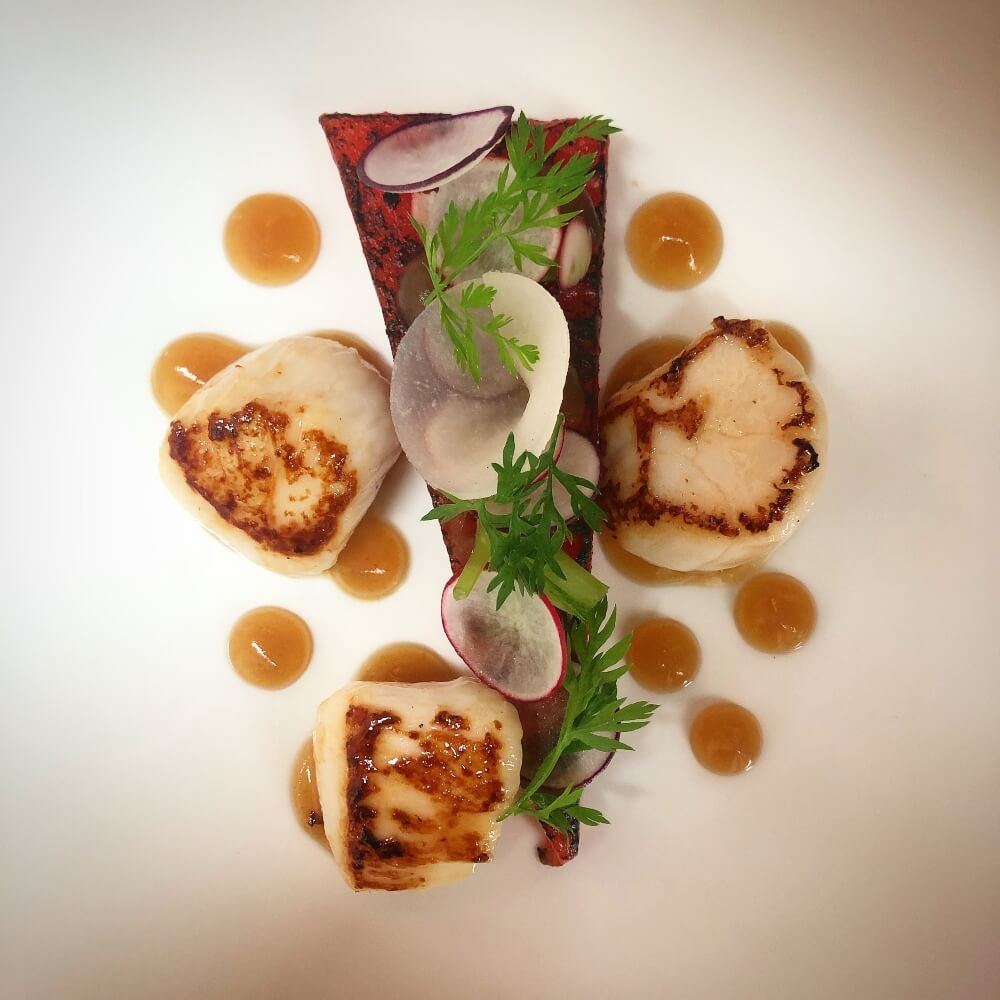 What's the most challenging aspect of your job?
Staffing! Finding chefs is incredibly difficult. I think the industry is changing and its important that chefs/establishments adapt with the changes. People don't want to work the hours in a pressured environment. To be honest, this makes me thrive. But we need to find a middle ground for this rewarding industry and for the next generation.
How would you describe your style of cooking?
Modern British with both Local and Natures influences
What recent food trends have had an impact on your cooking?
Zero waste is a massive one for me. Using every part of an ingredient and utilising what can be eaten.

Who is your favourite celebrity chef if any? Or what is your inspiration for your cooking?
When I was younger it was Jamie Oliver for his energy and passion. But now I'd say Raymond Blanc, Gary Rhodes or Marco Pierre White. These were my icons when I started to become a chef. Gary Rhodes really elevated the British classics and his book is like a bible to me.
Who would be on your dream table to cook for?
My Mum, Banksy, Sir Alex Ferguson, Sir David Attenborough, Lewis Capaldi, Marco Pierre White, Stormzy, The Peaky Blinders.

It's a big table, would need a pre-order.
Fancy joining us for a bite to eat?
If the above has you intrigued (and perhaps a bit peckish?) then take a look at our sample menus here and book a dining experience at The Lake Country House today.
If you would like to work with Joe check out available chefs positions at our careers section.