Best Walks in the Brecon Beacons & Snowdonia
Published: 2018-08-07 / Author: Tom Hall
At the Lake Country House, Hotel & Spa in Powys, Mid Wales, we're very lucky.
How so?
Well, in terms of travel time we're pretty much equal distance from two of the most beautiful national parks in the UK – The Brecon Beacons and Snowdonia.
What you can be sure of, is it doesn't matter whether you drive north or south you'll be treated to some soul stirring scenery.
And - wonderful landscapes mean wonderful walking.
Before this glorious summer ends, we thought we'd share some of the best walking ideas in the Beacons and Snowdonia – courtesy of the National Trust.
Perfect for a late summer break!
Walks in the Brecon Beacons
1. Pen Y Fan & Corn Du Mountains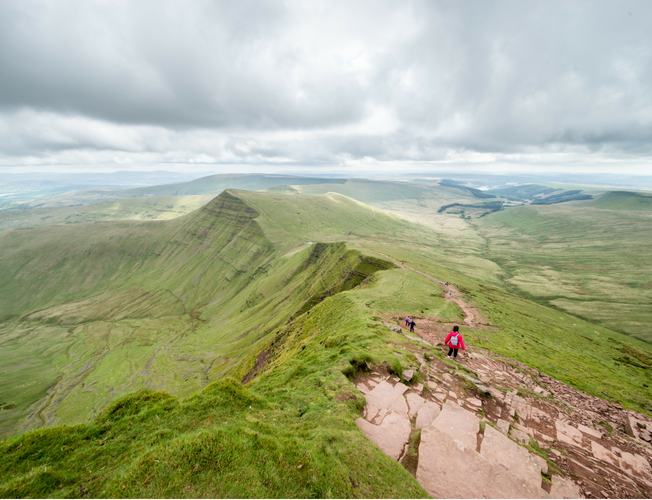 Photo - walking Pen Y Fan
This isn't too tough – but summiting the highest peak in Southern Wales is worth a little huffing and puffing.
A footpath leads to you up to Bwlch Duwynt (or Windy Pass), and from there to the saddle between Pen Y Fan and Corn Du. Here, are unimpeded views down the Neuadd Valley – truly lovely.
Corn Du is the second highest peak in Southern Wales – with a peak 13m shy of Pen Y Fan.
The Vista from the top of Pen Y Fan on a clear day is incredible. If you've keen eyes you may spot the tip of Cadair Idris, a mountain at the southern edge of Snowdonia and the Bristol Channel near Porthcrawl.
2. Henrhyd Falls & Nant Lech Valley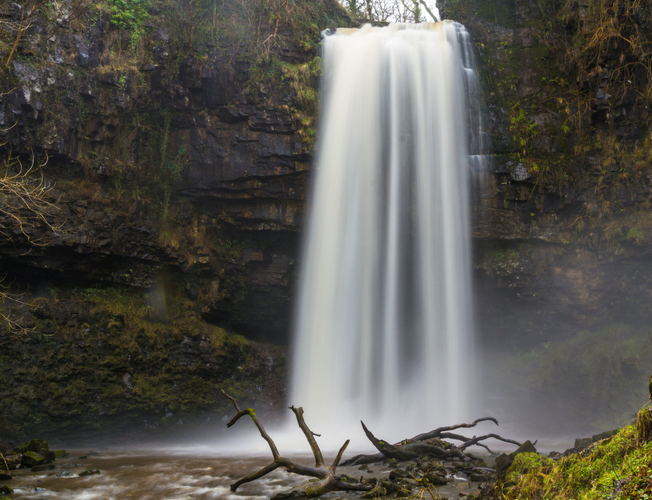 Photo - Henrhyd Falls
Now it's time for highest waterfall in southern Wales, and the pretty Nant Lech river valley – known for being a wildlife haven.
Henrhyd is a stunning waterfall – filmic, even. The location scouts for Christopher Nolan's film 'Batman: The Dark Knight Rises' clearly knew this. Henrhyd is none other than the entrance to the Batcave.
From the falls a footpath takes you down the valley, through wild fields until you reach the River Tawe, after having passed the Melin Llech; a moody, disused watermill.
3. Brecon Beacons Horseshoe Ridge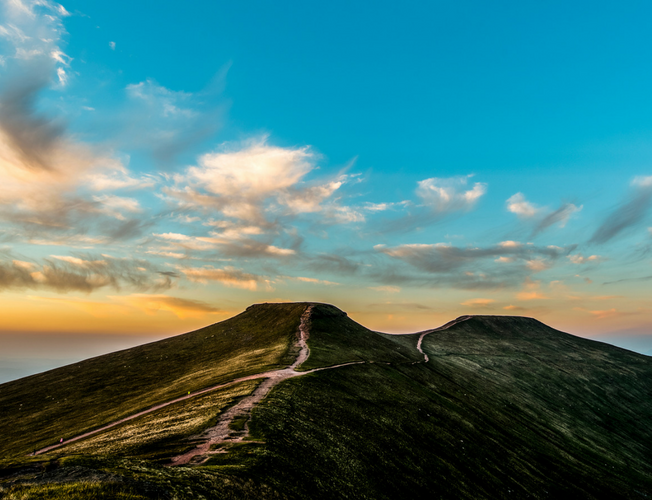 Photo - Ridge Path at Sunset, Pen Y Fan & Corn Du
This is a proper hike, and only recommended for those with some experience – and shouldn't be undertaken without waterproofs, a compass, a map, a whistle and a torch.
The weather in upland environments is fickle and can turn just like that. So being prepared is vital.
Those rearing to give this walk a go, will find a breath-taking route, right into heart of the Brecon Beacons, following the ridges between mountains – with Pen Y Fan a midway point.
4. The Skirrid Mountain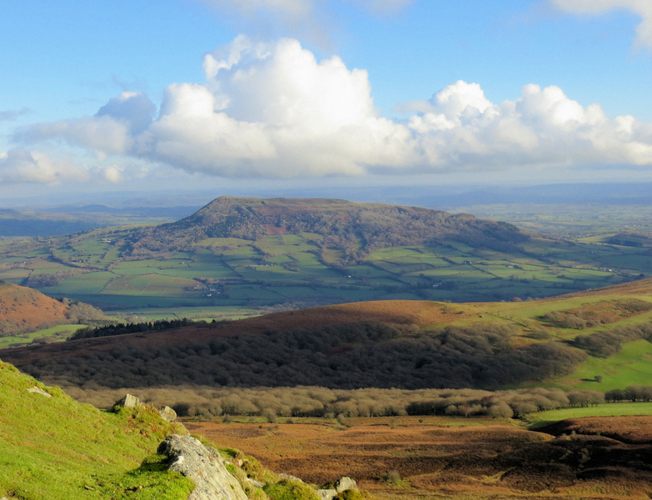 Photo - View of The Skirrid
This is a brisk walk, taking you through dappled woods, around a hillside and up to the summit of The Skirrid. It sits in isolation on the fringes of the Black Mountains and is known locally as 'the Holy Mountain'.
Due to its aloneness, views from the summit are unbroken in every direction; including the rest of the Brecon Beacons to the west, and Gloucestershire (Forest of Dean) to the east. The Mendip hills in Somerset can even be spotted.
Suffice to say, panoramas don't get much better than this.
5. Upper Tarell Valley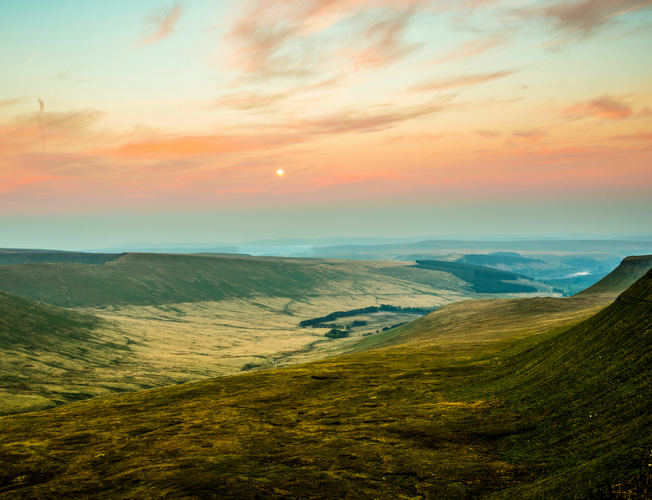 Photo - Sunset Upper Tarell Valley
Not all walks in the Brecon Beacons involve stomping to the top of a mountain.
With mountains come valleys, and the Tarell is a fine, glacial example – with a pre-industrial track; once the main road to Cardiff. How things have changed…
This walk should be a breeze compared to some of the others, and involves following a river past crumbling farmsteads, before returning via a tarmac road.
Walks in Snowdonia
1. Llyn Ogwen Lake Circular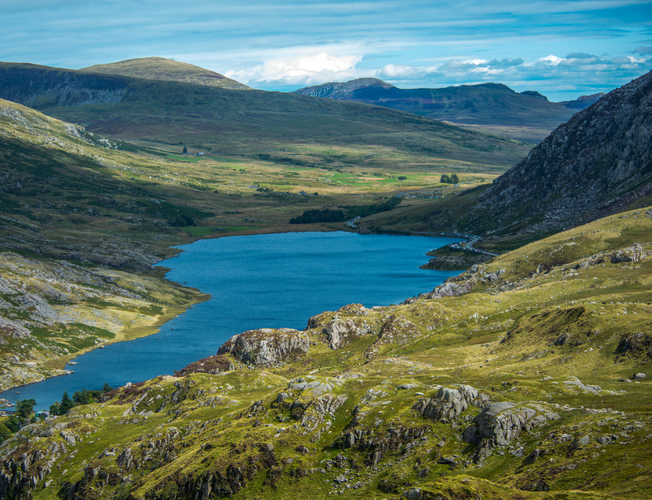 Photo - Llyn Ogwen
This is an easy walk without anything to summit, and an ideal way to experience the epic scenery of Snowdonia without tiring yourself out. Simply follow the river up to the lake, avoiding the boulders as you go.
Speculative fact: It is said that llyn Ogen Lake is the final resting place of King Arthur's legendary sword – Excalibur.
2. The Dinas Emrys Trail – Merlin's Mountain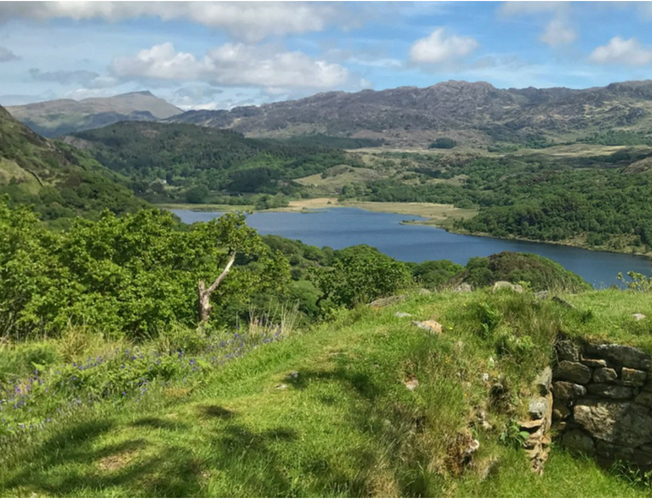 Photo - View Dinas Emerys Archaeological Site (From National Trust Website)
That's right, Merlin the wizard no less. Snowdonia is rife with Arthurian legend – and this story has dragons…two of them for good measure.
It is said that King Vortigern tried and failed to build a castle on the mountain that is now known as Dinas Emrys. The walls kept tumbling down. Merlin suggested, this was because two dragons were fighting within the mountain.
So, they burrowed into mountain (as if it were that simple?!), and there they were – fighting away. The dragons were released, problem solved. In Merlin's honour the new castle was named Dinas Emerys after his Welsh name - Myrddin Emrys.
This relatively easy walk takes you past waterfalls, through ancient woods of gnarled oak and up to the summit of Dinas Emrys, where there are gorgeous views of the surrounding lands and the blue lake waters below.
3. Rhaeadr Ddu Falls & Coed Ganllwyd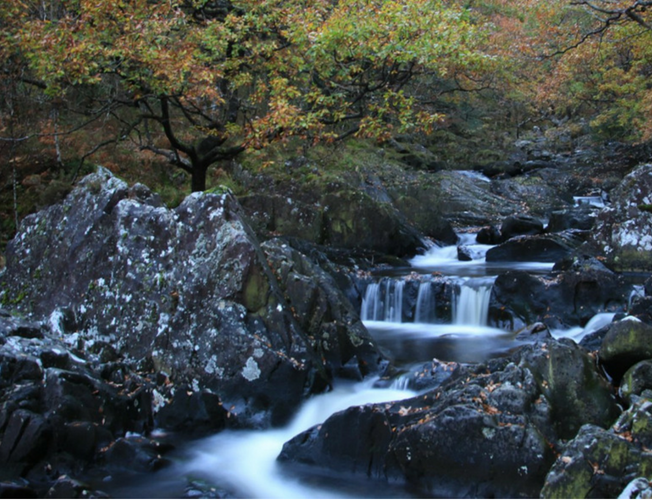 Photo - Rhaeadr Ddu Falls (from National Trust Website)
This is a peaceful riverside walk, taking you past the atmospheric Rhaeadr Ddu ('Black Falls') and through woodland glades in the Coed Ganllwyd National Nature Reserve.
Spot: early on during your walk look out for a lichen covered rock with a poetic inscription on it…
4. Dolmelynllyn Estate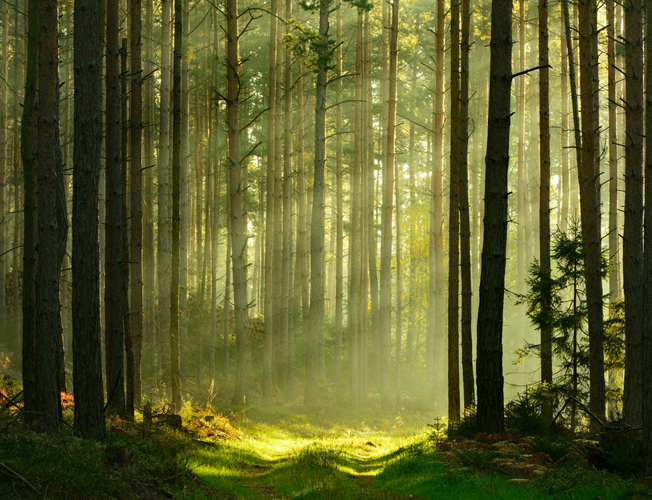 Photo - Sunbeams through conifers
This is similar route to no. 3. However, after having seen the majesty of the 'Black Falls' you'll emerge from confierous woodland into the open country of the Dolmelynllyn Estate.
On your travels, you'll see a 19th Century gold workings, stamping mills, barracks and a powder hut.
5. Gelert's Grave – Beddgelert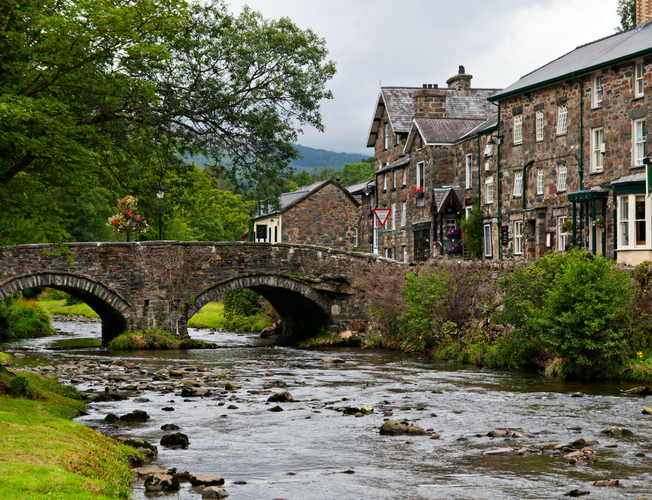 Photo - Beddgelert Stream and Bridge
Have you ever made a pilgrimage to the grave of a dog before?
Gelert's story is a Welsh version of the 'faithful hound' tale or motif from global folklore. It's a warning against killing a loyal animal.
This is a mellow river walk, passing the famous bronze statue of Gelert – and through the shadow of the Craig y Llan, a rugged, rocky hilltop.
Just before the end of your walk, if you fancy a bite to eat, there's Cae Gel picnic area. This wonderful spot was created in memory of Alfred Bestall who lived nearby, the illustrator of Rupert the Bear.
Position Yourself Near Beauty – The Lake Country House, Hotel & Spa
Our regal country house hotel in Powys, Mid Wales, is ideally positioned for you to soak up the beauty in Wales' natural landscape. Honestly, there is so much of it.
And, what could be better after an inspirational, yet exhausting walk than revitalising with a soothing spa treatment? Not every hiker has that to look forward to! And what about some award-winning cuisine? Exquisitely comfortable rooms?
If you're going to gift yourself some of the most striking scenery in the UK, then you'll not want to spoil it with mediocre hospitality.