Behind the Scenes in our Kitchen
Published: 2015-06-16 / Author: The Lake Country House
Delicious Celtic-inspired cuisine is one of the key reasons guests love the Lake Country House Hotel. Naturally, we're always keen to keep our menu as fresh as our produce (guests can keep an eye on current choices in our dining section). So for this month's blog, we decided to ask our Chef de Partie Luke Bamford for a peek behind the scenes: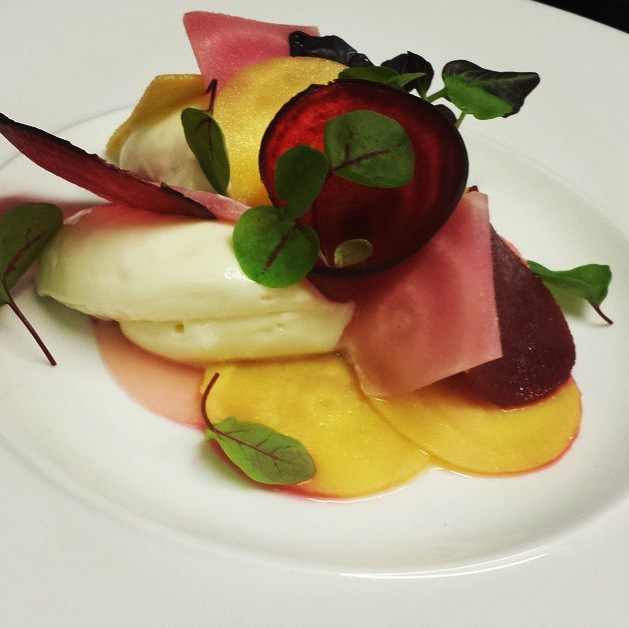 "It's always busy in the kitchen and there is always something to craft. But beyond the day to day process of preparing, cooking and plating up food, my absolute favourite task is the creative process with each dish.
Often it is about creating something elegant yet simple. By using the very best produce for the season and experimenting with flavours, we constantly try to keep things fresh and personal. The atmosphere in the kitchen can be hectic, but we're a tight-knit group and very focussed.
Our team has to run like clockwork, not only in our own roles, but working with each other so that the whole kitchen has sharp timing. It's intense and there is inevitably some pressure, but we are not exactly Hell's Kitchen. Above all, we are a team and if anyone falls behind we help each other out.
Our typical day starts early and ends late. Even outside mealtimes, we are getting ready for the next service. I've gained huge experience at the hotel in different areas, but my key role is creating delicious sauces. I have my established favourites, but one of the great things about the job is that I'm still always learning and experimenting.
I think the art of a chef is to make people aware of where their food has come from; a dish can taste amazing but instead of simply eating it, I like to try and give them the story behind the contents. The preparation and presentation are just as important as each other.
For any true chef, it's not just a job but a passion. Even when I'm not on duty, I'm working on dishes and trying new ideas. Tom, who works alongside me, often comes around to my house and we'll experiment with a meal. I'm also a big fan of following food blogs and keeping up to date with trends. My aim is to make stand out dishes that surprise and delight guests."
Come and dine with us:
Our expertly cooked, locally sourced menu is a delight at any time of year, whether you are a hotel guest or simply looking for somewhere special to eat in mid Wales. With 300 wines and an award-winning and ever changing menu, we are not only a great place to eat near Builth Wells, but one of the best restaurants in Wales. To explore our menu further, or to reserve a table, see our dining section. Or for a special treat, why not present a friend or loved one with one of our gift vouchers for a dinner to remember?